Obituary for Maureen Ann Olsen
"Not all of us can do great things. But we can do small things with great love." Mother Teresa

There are no words more fitting and more profound than these to describe the very essence of our beloved mother, wife, sister, grandmother, and friend, Maureen "Mo" Olsen. Befitting of her very nature, Maureen would be the first one to say there is no comparison of her life to the great Mother Teresa, a godly woman who nurtured the world's children, healing and caring for so many, and inspiring generations with her selfless giving and sacrifice. Yet, in fact, that is what makes her relatable to Mother Teresa at heart. To those of us she knew, loved, cared for, and nurtured, we know this is who she was and what she did for all of those she knew. Her life's work was to heal people, in body (as a nurse) and in mind (as a friend and shoulder to cry on). To know her was to be loved by her – and it was to love her in return. There are hundreds of us around the globe who are better people because we were blessed to know her. That is her legacy.

Maureen passed away in January 2018, in her home in Kent, WA, due to natural causes at the young age of 70. It was unexpected and far too soon for any of us to fully comprehend.

Maureen, known to her friends and family as Mo, was born in Philadelphia in March 1947, to parents Regina and Joseph. There she grew up during her formative years, attending Catholic school up through middle school. There have been many entertaining and heartfelt stories about her young life on Lee Street with her family, the summer visits to Cape May and the boardwalk, and going to school with the nuns.

The family relocated to Seattle and Maureen attended Blanchet High School. Maureen made many life-long friends at Blanchet, was high school class president, and met her would-be first husband Jim (James) Luby there. She graduated from Blanchet in 1965 and went on to attend the 3 year Cabrini Nursing School in Seattle, while her family moved on to Houston, Texas. Living so far from family was hard but she always maintained close ties no matter the distance. While staying in Seattle, she became an "adopted" member of the Luby family as she was growing closer to Jim.

In January of 1969, Jim and Maureen married. In November of the same year, they had their first child, Jeannie (Regina). She had her second daughter, Shannon in October of 1974.

Maureen, a woman ahead of her time, worked, raised her family, and went back to school to get her Bachelor of Science in Nursing at the University of Washington (1974). Maureen was a proud Husky her entire life. While her marriage with Jim was not meant to be for the duration, she had a lovely early life with Jim and she was always grateful for the fact that they had their two daughters together, who truly were the ultimate loves of her life.

On a fateful Saturday night in Seaside, Oregon in 1984, Maureen and her sister Therese went to a friendly oceanside bar (of all places) and met the person who would become her future 2nd husband and lifelong companion, Don. Donald Olsen, along with his 3 children, Wayne, Dave and Jenny, soon became part of Maureen's circle of life. From this day on, Don and Mo would be soul mates. Married in July 1991, on the anniversary of the day they met, Don and Mo celebrated in style, with top hats, singing, champagne, and dance routines. It was just the first of several big parties Maureen successfully planned and hosted.

Maureen's crown and glory event was just this past year when she hosted Don's "75+1" surprise birthday party, planning for over a year, with elaborate live music, cake and decorations, food, and guests from around the country. It was an amazing achievement and a true labor of love.

Maureen was a business owner and a nurse by profession. In some ways, this defined who she was because her very nature was to care and nurture those around her. But her true self was fully characterized by her sense of giving. She loved her grandkids, Ryan, Madison and Maggie more than ever. She loved her nieces and nephews as much as her own kids. She loved her siblings and all of her family and would do anything for any of them.

Filled with compassion and interest in others, Mo made friends easily and maintained contact with many. Her outreach was expansive and friendly personality was infectious. Maureen was a lover of crossword puzzles, genealogy, English who-dunnit mysteries, gardening, ghost hunting, her beloved pets (past and present), and traveling. She was also an accomplished triathlete, completing a sprint distance triathlon when she was 59!

It's so hard to sum up the lifetime of love, sharing, caring and warmth that Maureen gave to everyone she touched. She gave of herself more than she ever took or accepted from others. She was the definition of love and all things beautiful. She was our family matriarch. She was our glue and our light.

She will be missed so very much; yet she will live on within each of us and for the generations that follow.

Maureen is survived by her loving husband Don, her daughters Jeannie and Shannon and their husbands Jay and Daniel, her step children, Wayne, Dave, and Jenny, her three grandkids, Ryan, Madison, and Maggie, and her siblings, Joe, John, Michael and Therese, along with scores of family and friends who loved her dearly.

Thank you to all of you that have expressed wanting to send flowers! We have decided that in lieu of flowers, and for those that would like to make a donation in her name, the JDRF (Juvenile Diabetes Research Foundation) was very important to Maureen. If you wish to do so, please go to: https://www2.jdrf.org/site/Donation2?2374.donation=form1&df_id=2374&s_src=jdrf.org&s_subsrc=siteMenuLink and donate in her name under the WA/OR Chapter. You are more than welcome to contact Jeannie if you have any questions: jnjanonson@gmail.com
"Make yourself familiar with the angels, and behold them frequently in spirit; for without being seen, they are present with you."
- St. Francis de Sales
To send flowers or a remembrance gift to the family of Maureen Ann Olsen, please visit our Tribute Store.
Previous Events
Memorial Mass
St. Stephen The Martyr
13055 SE 192nd
Renton, WA 98059
Reception to follow the Mass at the St. Stephen the Martyr reception hall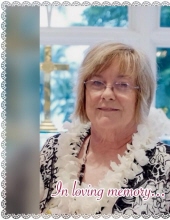 Thank you for sharing your
memory of Maureen
Provide comfort by sending fresh
flowers from our local florist.
No thanks, please don't show me this again.